My 'One Little Word" for 2011 is FAITH, and I am so grateful at how deep and wide it has motivated and saved me so far this year. I am way behind on posting, scrapping, and
journaling
about it, but wait for it... it will come!
One area I have to get working on is my faith in ME! and I am thinking this book and blog will help... I have always admired The Cameron's, Kirk and his little sister Candace. I remember liking how she was a beautiful and a bit chunky on Full House because I was more than a bit chunky myself. So when I stumbled upon her book in
bloggy
world at nap time... I found myself wishing the kids would wake up so I could go get this book. CRAZY, huh?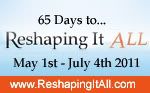 I know it is already the 2nd of May, but consider joining me and lots of other mommies as we read the book, support each other, and learn something new!
Come on... it will be fun (insert double clap)