So, Mike got a
Leapster
for Christmas and he really loves it... he calls it "my '
puter
". We got him a game that says 4-6 year old on it, but hey... he is brilliant, he can do it. Very quickly I realized that
ummm
... maybe not so much. I am trying to find that balance between being a stay at home mom, who believes playing and fun lead to the best kind of learning and the literacy coach, early childhood professional who could just about teach a rock to read with all her ideas, activities, and work! Thus, I was lead back to
OOPSEY
DAISY for something
inbetween
the two.
She had this blog linked to hers and well, lets say I spent a good couple of nap hours digging through them both and found lots of super fun ideas. Best of all, they require no money!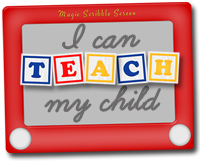 I made this simple color sorting mat and we have played with it every day this week- Mike and Addy both like it!
These pictures of the colored cars even got daddy on the floor to play!
And let's not forget it is almost Valentine's Day!
On the back I did a big and little sorter...
and our
Valentine's
worked on this side, too.
Also, the dollar store has a variety of posters for simple concepts like letters, numbers, and colors. I cut them up and added a cheap sticky magnet to the back... This was great in the classroom and now my own kids like it!
Now Mike and I are working on something super fun... can't wait to share it soon!