Hurray for October first... time for pumpkin coffee, sweatshirts, and being able to sit outside for more than 15 minutes here in Texas. Plus, art festivals, hay rides, and no more mosquitoes! October is by far my very favorite month of the year. There are so many fun thing we like to do in October as a family I wanted to make us an activity advent, but it seemed too much so I went for an October Bucket List.
My sweet mama had given me a few plain mini clipboards and I had a mini stack of scrapbook paper that hadn't been touched in three years... ah ha!
I picked seven things I knew we would do this month. I considered price, time, and the weather... because that is one thing about October, ya just never know!
My seven 'To Dos" are 1. go to the pumpkin patch. 2. watch the 'Great Pumpkin' 3. drink apple cider 4. find a costume
(I thought of pick or make... but would always work)
5. make spooky treats 6. read Halloween stories 7. celebrate Addy's birthday!
One side of the clothes pins sa,y "Let's Do It." I put those on the left.
So once we accomplish that bit of Fall fun, we turn the clip over where it reads... "We Did It!" and move it to the right side of the clip board.
The one thing I did consider was using pictures since Mike can't read (yet!) So maybe this October I will get photos of each activity and use them somehow next year!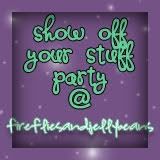 PS. Three years ago this month Adam and I lost a baby at 12 weeks and it was two years ago this very day we lost a daughter at 17 weeks. Please say a little prayer for all the unborn babies, parents who lost them, and all of the pregnant mommies who worry about losing their babies. May God grant us all peace and remind us that this is the day the Lord has made.